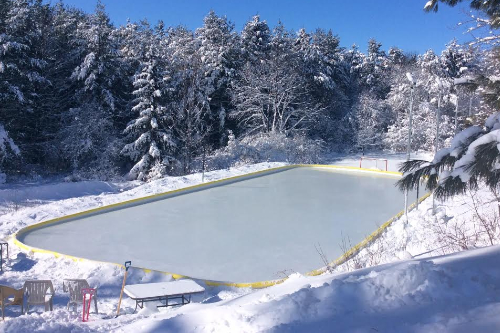 Making hockey and skating rinks for personal and community purposes couldn't be more Canadian. As an official Canadian distributor, we are proud to be working with the best backyard rink manufacturer in the market.
NiceRink(R) has been manufacturing backyard rinks for over 25 years and they know their stuff.
Please contact us for the full line of rink sizes and pricing. Or feel free to come by and see all of the NiceRink(R) products we offer. Thank you in advance for shopping locally!!
Call us today at (403) 648-0940 or go to the Contact Us page to drop us a line.
What should I look for when shopping for rink making products?
WHITE-WHITE-WHITE! NiceRink liners are Ultra-White on BOTH sides!

Helps keep your ice as cold as possible by reflecting the UV rays away from your ice.
Saves your grass! Clear/White/Black liners or "blue tarps" are known grass killers, so BUYER BEWARE!

Is there a warranty on the liner?

You need a good strong liner to do the work and that's why NiceRink liners are warranted to hold the water.
Some warranties on the market are for a 5 year "UV warranty", but that's not overly useful when the liners are typically covered with snow and ice during usage.
FYI - add KickPlates to help protect the portion of the liner above the ice surface. See the Products page.

How are the boards held in place?
Can the height of the system be adjusted? (i.e. sloped yard)

NiceRink brackets will adjust to 14" of water without any additional support needed. NiceRink adjusts to slopes in a yard by changing the board height in the bracket.
Checking the slope of the yard with a laser level BEFORE starting is always suggested.

How long has the company been around?

NiceRink has been in the rink building / products business 20+ years (since 1991 actually). Simply put… NiceRink knows rinks!

Market reputation?

NiceRink is proud to manufacture the World's Best Backyard Ice Rink System!

Additional questions?

RinkWater is an official Canadian distributor of the NiceRink products. RinkWater is open all year, and happy to answer any of your questions. Our phones get answered and our emails get replied to.
Call us today at (403) 648-0940 or go to the Contact Us page to email us.
The NiceRink system is easy to install.
No wood. No screws. No regrets!!!
The NiceRink system was designed for ease of use and installation. Reference the NiceRink installation video and the other How-to Videos for all the information you need.
The Brackets simply push into the ground and the Thermoformed Boards hinge together and slip into the brackets. You and a helper can easily setup the brackets and boards for a 32'x54' rink in about 1.5 - 2 hours.
However, before you start installing your system, you must consider these four important details:
1. Pitch / slope (levelness) of the rink site
2. Access to water
3. Size of the rink
4. Location of the rink (convenience of use)
Some additional FYI's:
A site that has a pitch less than 6" is best.

A 6" pitch would give you 4" of water/ice on your shallow/high side and then 10" at the deep/low end.
Less pitch means less effort to build/install the side boards, will use less water and take less time to get your base ice going.

When thinking about size, keep in mind that plywood and the NiceRink boards come in 8' and 4' sections. Rinks widths and lengths divisible by eight or four feet are the easiest to put up and will have less wasted material.
The rink should run parallel to the house, if possible, to avoid pucks being shot directly towards the house.
If ordering the NiceRink backyard ice rink liner, add 5' to the length and 5' to the width to get your rink liner size. This will give you 2.5' of extra liner around the entire perimeter of the rink to go up the inside edge of the boards to contain the water/ice.
Other installation questions... Call us at (403) 648-0940 or go to the Contact Us page to email your inquiries.
Once the rink liner is installed it acts like a pool or a bathtub, allowing water to remain inside the rink boards. So, just add water!!
Give the water a couple of cold nights and the rink is ready to skate on. No more waiting for snow and slowly trying to build up a base. The liner will shave weeks off of the build time and make things far easier.
If you're not interested in running a garden hose to your rink, feel free to contact our friend Brent at Glacier Water (403) 938-3282 or email him at brent@glacierwater.ca (www.glacierwater.ca) Brent can deliver 3500 gallons of water right to your rink and save you the hassle of running your own hose (especially when it's -20 degrees Celsius outside).
Fill. Freeze. Skate!
NiceRink(R) How-to Videos
Click the Playlist (in the top left) to see additional videos.
Who We Are
We are just like you. And just like you, we want the kids outside, away from the 'screens' and enjoying the fun that comes with winter.
Our team consists of players, ex-players, people who think they can play and a few that promised us they would learn. One thing is for sure - we have thousands of hours of combined experience of constructing and maintaining outdoor rinks. We know the benefits of good quality materials that can withstand the elements and aren't a gigantic letdown once all the time and effort has been spent to make a skating surface for your kids and likely a few neighborhood kids as well.
"Trust us - we know what we are talking about".... and we think we actually do. Try us out and we'll make sure this is an easy process for you.
Contact us before you buy something you regret!