From Concept to Reality, the Story of NiceRink™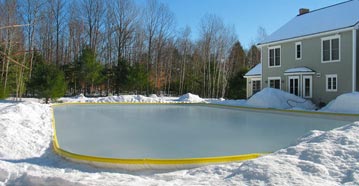 Irving J. Stoller established a family company, in 1948. He developed it in the early days as primarily a poly coated paper drop cloth Company in its infancy and continued its growth with many other creative plastic solutions.
In 1963, Jim Stoller, Sr. joined the team to help his father with the family business. The company continued in its growth pattern continuing to develop new and creative applications for the flexible films it converted and distributed.
In 1968, Jim Stoller Jr. was born. He recalls, as many of you will too, their little backyard ice rink that his Dad made on the patio in our backyard. Jim Sr. brought some small tubing home from the shop, laid it around the edge of the patio, filled it up with water and flooded the interior where the water would then hold and freeze into their first rink.
That little rink ended up making his family a Skating one, with a capital S! Jim Sr. only made that little rink for a year or two because it took too much time and effort to flood, freeze, flood, and freeze every night, because the plastic tubing didn't hold the water in. However, Jim and his brothers, continued to skate and play both in the backyard and for the local teams, growing up through the ranks. During those years they had Mom and Dad running all over the place, as you run your children here and there. Three boys and two parents make for some tricky nights of making three "AAA" practices at three different rinks, a real scheduling nightmare.
They had the luxury of living on a lake during those later years, so if they wanted more ice than three or four nights a week, they would go down and get a few more hours of ice in until darkness set in or the ice got too bumpy. Those were the great skating days when lakes stayed frozen and one could have an outdoor play land anytime.
Jim's first years were spent learning the complete ins and outs of the operation. He had worked in the factory during the summers of his teen years learning the business from the bottom up. Jim's first rink building experience was helping out the local town to flood a parking lot with a liner he and his Dad donated for the experiment. The liner held the water fine, but the town didn't take care of the ice very well, resulting in poor ice conditions and low skater turn out.
Jim's first personal backyard ice rink was attempted during the winter of 1991. He started like most do, spraying the grass and spraying and spraying to build a whopping ½" of ice (so painful) the first night only to have it disappear the next day. "This is ridiculous," he thought, who in their right mind would continue this losing effort against Mother Nature. NiceRink liner to the rescue! The very next day the first NiceRink liner was cut, installed, filled in one night and frozen solid the next. He benefited from a small 10' x 20' level area the first year for an 11 month old skater. If they can walk, then put skates on 'em.
Well that was easy, talking to himself, I wonder how many other crazy rink building parents of little skaters like him would enjoy the ease he had discovered in building a rink by sitting inside and watching it fill and freeze on its own. Turns out, a lot! Although the NiceRink liner concept was new for them, it was old hat for some of the seasoned outdoor rink-building veterans. NiceRink liners, however, are not just regular sheets of plastic.
Our materials are made for industrial applications, which require much more strength and durability characteristics than readily available 6-mil poly film. The NiceRink Liners are made from top of the line, engineered films which are made lightweight, yet durable enough to withstand the cold weather and abuse ten times that of cheap clear plastic sheets. They can be manufactured almost any size in one piece, so there is no need for taping or gluing two sheets of 20' x 100' together to get the rink you really want.
Then came the NiceRink Brackets, what a back and time saver those have turned out to be. Then the additional ideas kept coming as we went along. Next was locking into the NiceIce Resurfacer, saving all of us easily a half hour or more in each flood of my rink. After replacing his boards once and foreseeing a third board replacement, there had to be a better board to use than wood… nope, there wasn't so he created the NiceRink Thermoformed Plastic Boards.
With the NiceRink "BIG 4" firmly in place, it's our customer service and client loyalty that leads us to the next level. His mission with NiceRink has always been to provide simple yet effective solutions to making and maintaining an outdoor ice rink. Also to provide products to help develop a skater's creativity and abilities whenever they want to without regiment. Have Fun!
Jim Stoller