NiceRink™ 20' X 40' Rink-In-A-Box Just $495 CDN!
(Does not include required sideboards)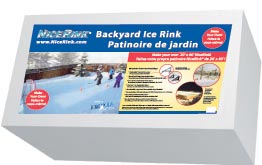 NiceRink® celebrates a "DECADE" for its "Rink in a Box" retail package available SINCE 2004 in local retail outlets and websites AROUND THE WORLD. 1000's of families "Took home the fun" when they purchased a 20' X 40' backyard ice rink. NiceRink, the leading manufacturer of home and commercial outdoor rink systems, continues to offer this package for an incredibly affordable price. The package comes with an installation DVD and the rink is simple to set up and adapts to uneven ground using the patented NiceRink Bracket System (included).
Special Note: Some dealers may also carry lesser quality rink packages along with NiceRink. Insist on the original, NiceRink, for quality and value. We also have replacement liners to extend the life of your rink.