NiceRink(R) 20' X 40' Rink-In-A-Box --- Just $449 CDN!
(DOES NOT INCLUDE required boards)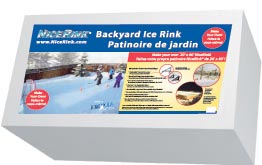 An easy, all-in-one solution for your outdoor rink!!
Rink-In-A-Box includes:
34 NiceRink brackets.
One 25'x45' NiceRink liner.
NiceRink repair patch.
One tube of 1 oz. adhesive glue.
One NiceRink Logo puck.
One instructional DVD for 20'x40' rink installation.
One car window sticker and two helmet stickers.
Designed to be used with NiceRink plastic boards or 3/4" thick plywood.
Special Note:
We also have replacement liners to extend the life of your rink.
Some dealers may also carry lesser quality rink packages that are not NiceRink. Insist on the original, NiceRink, for quality and value.