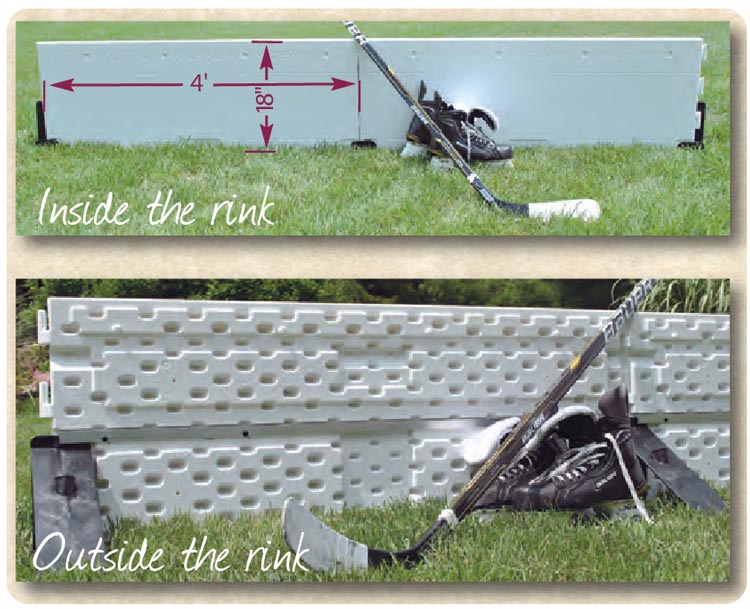 We are VERY excited to offer you a sideboard with AWESOME engineered qualities!
NiceRink Boards are the perfect perimeter board to use with your NiceRink Brackets. Our manufacturing process allows for nice, smooth, professional finish to the boards. The engineered design allows a full hinge/interlocking design which is very easy to use and allows the NiceRink boards to be easily connected together for a nice sturdy long lasting rink frame that lock together from "top to bottom". When locked together, they can then be swiveled at the corners to give your rink the round corners everyone loves! The boards have an extra board support cavity that will integrate with the NiceRink bracket, to easily allow for extra support to be added for "deeper water" sloped rinks. Simply add a 1"x4"x19" board into the NiceRink plastic board, and lock it into the NiceRink bracket.
The aluminum insert support bar along the back of the board is for added stability on rink sites that have more slope with deeper water/ice. This aluminum bar also extends over the top of the brackets to "LOCK" the boards to the brackets when fully seated into the brackets. No backside board attachment necessary. Simply slide them into the NiceRink Brackets and you're good to go. The dual purpose stacking buttons along the top of the boards act in conjunction with the NiceRink BumperCaps. We've molded the stacking buttons at an optimum height from the top of the board to help secure your BumperCaps to the boards and help prevent them from blowing off. If you're looking for the serious backyard rink of a lifetime, the only way to go is with the NiceRink Thermoformed Plastic Boards. They're lighter weight, longer lasting and look so much better than wood boards.
For Lakes, Ponds and Hard Court Surfaces - We/You can make a simple modification to our NiceRink Brackets and you can then use the NiceRink Thermoformed Boards & NiceRink Brackets on Frozen Lakes, Ponds, Tennis Courts, Basketball Courts, or other hard surface area. By removing the spikes, the brackets will then lay flat on the surface and can then be staked in or sandbagged to help hold them in place.
Boards Measure: 18" tall, 4' long, 1" thick; Weight: 9 Lbs. (Less than 1/2 the weight of 16" x 4' x 3/4" piece of plywood.)