"We started from the bottom and now we're here..."
Classic line. It truly tells the story of RinkWater and the progress we have made over the years.
For many years, parks and green spaces all over the world have included a Municipal water source for bringing potable water to parks for irrigation, truck filling and ultimately providing a source to flood outdoor rinks in the winter time. RinkWater is the answer to this problem.
Over the years, many of these unprotected water sources have been frozen, vandalized and eventually abandoned leaving no options for building rinks and children no place to play in the winter. These standpipes also no longer meet plumbing code due to potential contamination from lack of backflow prevention and an un-metered connection to a municipal water source. Many attempts have been made to make this work, but usually the only solution is signing your life away as a volunteer, borrowing backflow equipment from your local Parks or Town department and hooking up hundreds of feet of leaky old firehose. When completed, all the equipment had to go into a heated garage (or home bathtub) to be drained, thawed and kept safe until the next flood. Do we have to continue? Obviously, this was far from ideal…
Originally a concept put forward to solve a problem in a park design, an insulated fiberglass box was "jerry-rigged" with components, mechanical and electrical parts and some crossed fingers. It did the trick in a pinch, but out of the design came sweeping change. Although some park designers still consider our original design as sufficient for the parks they attempt to design, we pushed for more.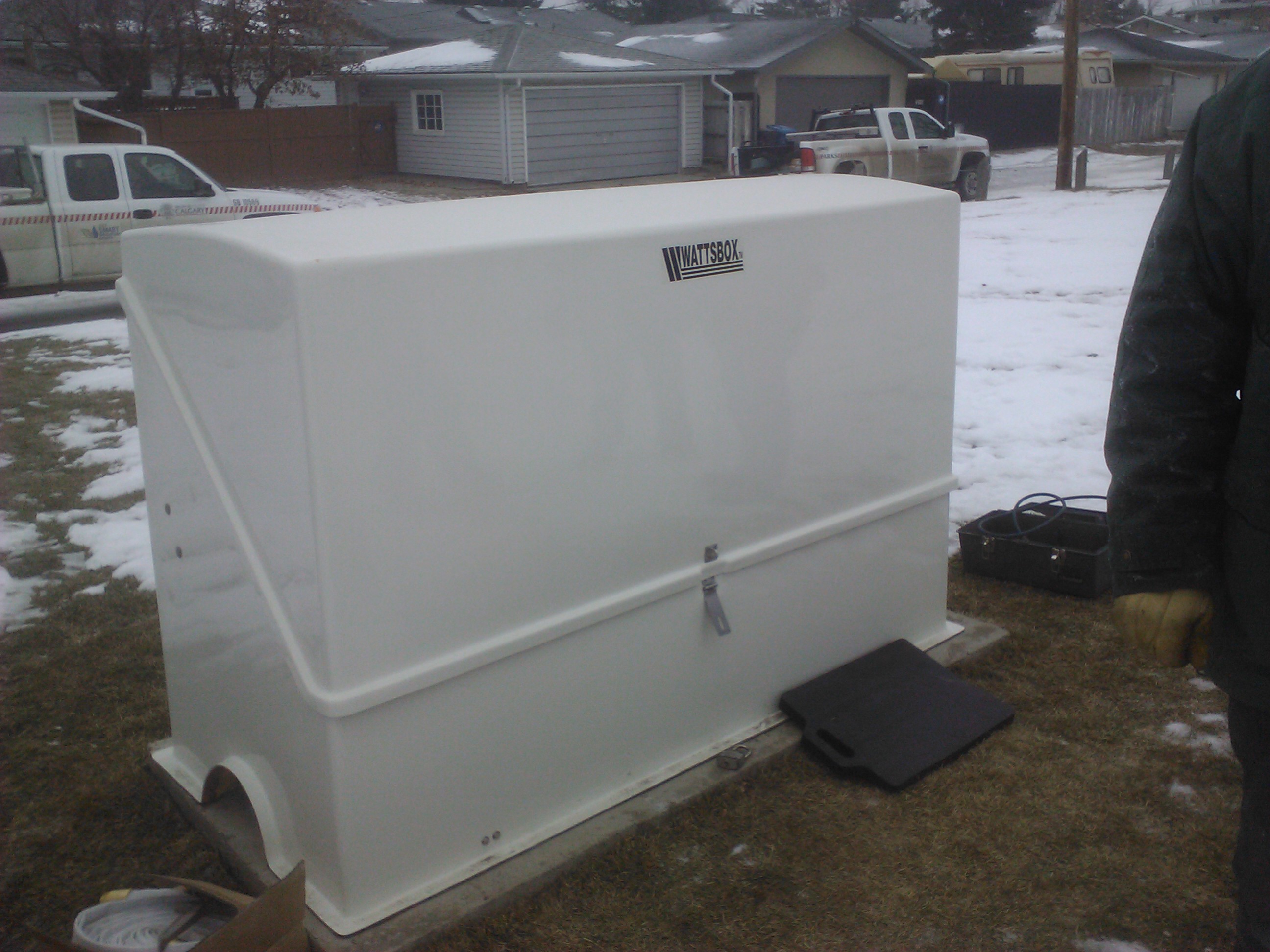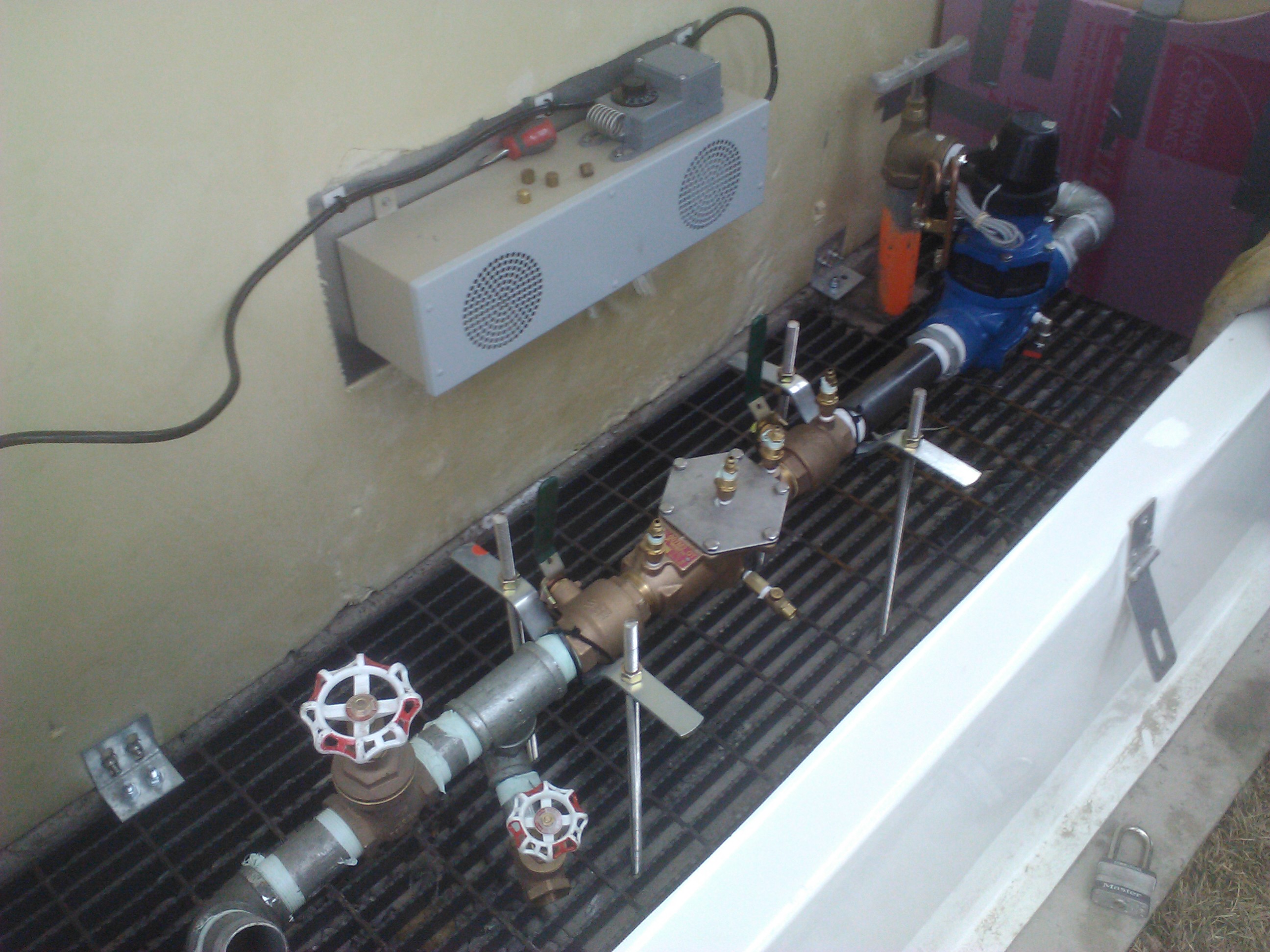 We salute our original idea, but knew it needed to be more intuitive, more community resistant and needed to give volunteers total access to what they needed. Our clients needed something with more features, more protection from the elements and more appeal to the projects they were designing for their customers.
So, as semi-perfectionists and unsatisfied with "good enough", we went back to the drawing board...
What we came up with was starting to make sense- really starting to take shape. Many features were incorporated that isolated electrical from the water service and gave volunteers what they needed to have everything in one place. The enclosure was aluminum instead of plastic of fiberglass, insulated with real insulation and didn't crack or break in cold weather. The system ran off single phase power which was a huge addition and it really began to take shape. But there was a problem…. It still wasn't good enough.
We showed the RinkWater at a local Parks Association event here in Alberta and realized our tweaks still weren't good enough. It was back to the drawing board for the third time.
Heated debates arose... Feelings were injured and some Unsportsmanlike penalties were called (and loosely enforced)…. In the end, we all knew that it still wasn't "there". The next RinkWater needed more, needed to be better.
So it began. Version III was introduced.
It had to be faster, sleeker, better looking and ready to work... And that it was.
Keyless entry, full vinyl wrap graphics, powered hose reel that could take 250 feet of hose without blinking, and a heater that didn't even blink at -50 Celsius. It was conceived, built, assembled, tested, CSA approved and ready for a Patent application. That Canadian patent pending status was achieved in April 2016.
Then the RinkWater team hit the road. After receiving RWIII in March of 2016, it was quickly assembled for a trade show in Edmonton, Alberta, carted from small town to small town and shown to anyone who would listen. Upon completion of that show, RWIII was put through its paces both at -50 Celsius and +40C, just to make sure it was ready for anything. The ETC Centre in Airdrie tested the unit and tried to break it – but it wouldn't budge. Then we actually flowed water through it. And it worked!! It worked so well, no other modifications were required and the interior mechanical was ready!
More shows ensued. Alberta Facilities Providers was another excellent success. Not only that, but the NiceRink boards made their debut as well to a very warm reception. RWIII was a success and it was proven that we had something special.
But there was more! The City of Calgary had committed to our original RWIII design for Prairie Winds Park and when we put the box into production, RWIV was born and is even better with redesigned locks, new hose porthole design and an easier to access mechanical area.